Single blocks receiving different levels of sunlight, results in a variety of ripeness and unique characteristics from each vineyard.
Soil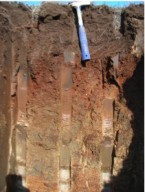 First horizon: Sandy clay texture with medium depth and less than 3% organic material.
Second horizon: Clay of varying types offers structure and fruit concentration.
Third horizon: Compact granite, and in some areas Calcium Carbonates presence.